Mill Dene Garden, School Lane, Blockley, Moreton in Marsh, Gloucestershire, GL56 9HU
Tel: 44(0)1386 700457 | Fax: 0705 361 6982 | Email: info@milldenegarden.co.uk
Web site design: Eagle Design Ltd | www.eagledesign.net | 0845 2308955

Exhibitions and Art in the Garden 2013

Mill Dene has a permanent exhibition of sculpture and carved lettering. International artists such as Jackie Allwood have been commissioned and her "fossils" are a tribute to Barry Dare's life work.

Letter carvers from the Cambridge School such as Martin Wenham and Judith Verity, a renowned Gloucestershire artist, have meaningful words beautifully inscribed.

The sculptures are chosen for mutual benefit: the garden enhances the sculpture and the sculpture enhances the garden.
There will be occasional artists exhibiting as well.

To download the catalogue of the exhibits, please select the link in the margin.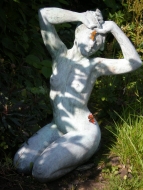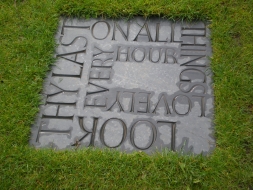 School visits
can be arranged with pleasure. Please ring Wendy Dare to arrange.